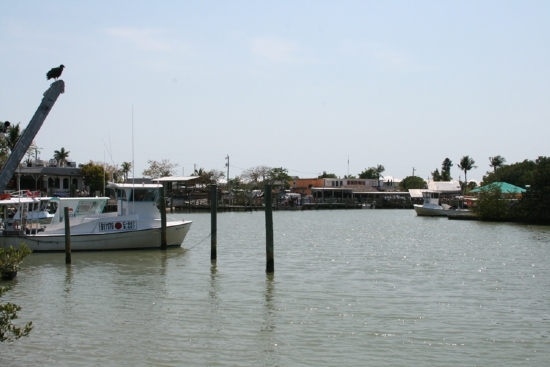 Painting requires very little. Usually paint and something to apply it with (brush, trowel, or fingers) is all you need. Creating art on the other hand requires thought and skill. When it comes to plein air painting anyone can go out and copy whats in front of them but, to create good art one has to do some editing.
Here is a recent example, another Florida painting, of editing in the field. My focus here is on creating a composition out of a lot of confusing stuff. The photo above I took in a little fishing village (just south of Marco Island) called Goodland. As you can see if I tried to paint everything in this photo I'd be painting for days and my outcome probably wouldn't be so good. What I liked about this back lit scene right away was the foreground boats and the boat in the middle ground. I knew from the start I wanted to emphasize these two elements. What I did next was squeeze the large space between the boats together getting rid of a lot of unnecessary mess. I kept a couple key shapes (or buildings) that would help give the painting a since of place. I enlarged the palm trees on the right also giving the scene a since of place. Without the palms this scene could have been painted in any harbor. Excluding these elements would've made the scene to generic. We wouldn't want that. Lastly I omitted one of the foreground posts and played with a radial pattern with the 3 remaining posts to help the viewer travel through the foreground better.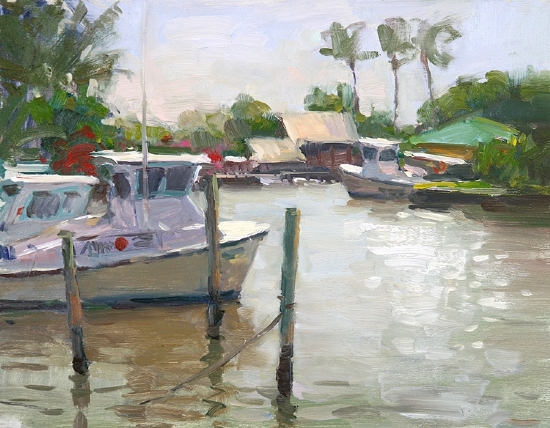 Comment on or Share this Article →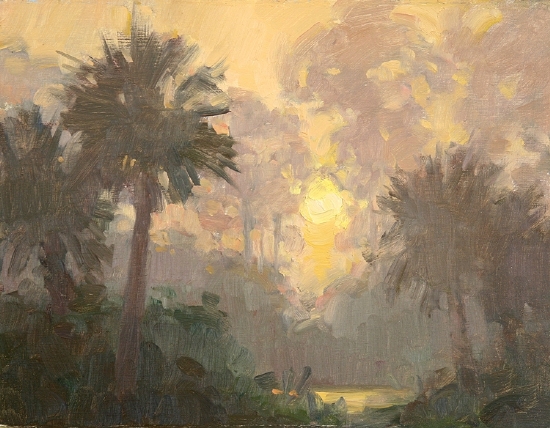 "Evergaldes Morning Fog" 11"x14"
I'm on spring break with the kids this week. As we often do this time of year we head down to Marco Island, Fl. Marco is about as far south as you can go on the Gulf side before you hit the Glades. Sometimes when I'm down here there is lots of water in the Everglades. This time not so much. This morning I headed out to paint about 7:30 am. Driving about 20 miles east of Marco on the Tamiami Trial I had a spot that I wanted to paint that I'd painted before. As I approached the general spot a fog started to roll in. As I passed the spot because of the fog and the fact that it's hard to see anything when your going 65 miles an hour I got a quick gleams of it. As I pulled of the road to make a U-turn to head back to my spot I saw this scene which I liked very much. I left the car there and pulled out my equipment out of the trunk and set up. As I started I knew time was against me. Sometime it pays to be quick. When the fog is lifting as fast as the sun is rising you don't have a lot of time to paint. From start to finish this painting took an hour. Even though I like the finished product I might touch it up here and there when I get back to the studio. I also would like to take this idea further with a larger painting. That's a blog for another day.
Comment on or Share this Article →