I thought this would be a good follow up blog to my last entry. At the end of my last blog I mentioned getting out and painting so you can study and master light. If you haven't been out painting plein air you shouldn't attempt to work from photos. There is no good substitute for the human eye when it comes to recording a subject, but in some cases you just can't help it.
On my recent trip to Maine I took a fare amount of photos and I had limited time to paint up there so I'm forced to use these photos to produce some work. When I approach working from images there are certain rules I always adhere to. First of all I always use photos I take. Don't ever work from other peoples photos. If I take the images myself at least I know I've had the experience of being at the site of the subject. Secondly I try to work on paintings rather quickly after taking them so that the subject is still fresh in my mind when i start a work. Lastly I always give myself about the same amount of time to execute the painting that I would if I were painting it in plein air.
I took this particular photo right before I started working on the painting "Bar Harbor Boats" (see previous blog). It was taken right in front of this sort of ritzy hotel right in the main part of Bar Harbor. What I liked about it, right off, was the fact that it looked so natural. The large birch trees on the right framed the subject so well in combination with the islands off in the distance and the rocks on the left and the bottom. I further liked the fact that the image had naturally occurring positive and negative space. As the rain had just stopped before I took this picture the rocks were still wet and the clearing sky was reflecting in them which caused some interesting color harmony throughout the image. Unfortunately photos never do colors justice. I would have to make it up.
After choosing a canvas size I started out doing a couple little thumbnail sketches using the original photo. To get a better I idea of value in the piece I converted the image to black and white and printed it out on a cheap piece of printer paper. After deciding on one of the small sketches I did a
full size drawing
with charcoal on newsprint. Being satisfied with the way it came out I transfered the drawing to my canvas. I used a method learned back in college to transfer the image. Basically you charcoal the heck out of the back of the drawing and place it drawing up on top of the canvas then trace the major lines and shapes. Waa laa instant guideline for starting a painting. From here just using the B&W print out I started with the
under painting
. I used the classic burnt sienna / ultramarine blue combination to get an idea of were my values would fall.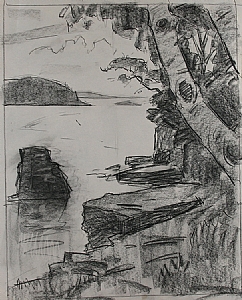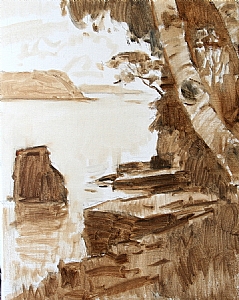 Full Size Sketch - "Acadia Song" Under Painting - "Acadia Song"
Now that my under painting was done I proceeded as I would on a plein air painting. I established my darkest darks first then I worked all my way up to my lightest lights (highlights). I mentioned before I had to use my knowledge of working outdoor painting for 16 years to create my color choices. It most definitely helped that I did several paintings of he Maine coast when i was up there. This along with memory helped me come up with color choices for this painting. My goal is not to copy the photo or take the photos color to literally. That never creates a good result.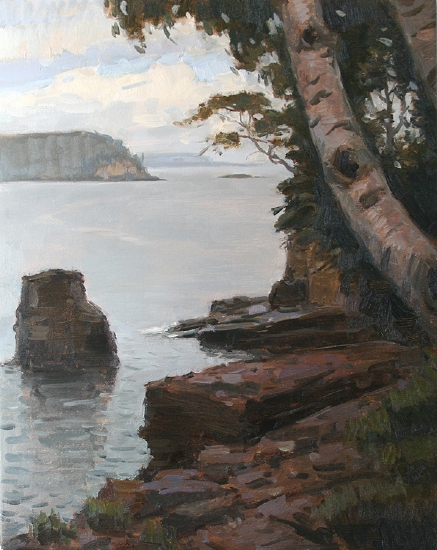 "Acadia Song"
Available
20" x 16"
Here is another painting I did from a photo taken in Bass Harbor, ME. The procedure for this was the same as above. I did a air piece "Bass Harbor Lobster Boats" while there of this same boat. When I started this painting the boat was in the water and when I finished it (two hours later) it was very much on dry land. The difference between high tide and low tide in Acadia is 8-12 feet. That's pretty amazing but, its nothing compared to were we lived in France (St. Malo) where the difference is like 30 feet. I took the images for "The Sun Catcher" after completing the plein air piece whe the boat was out of water.
"Bass Harbor Lobster Boats"
Available
11" x 14"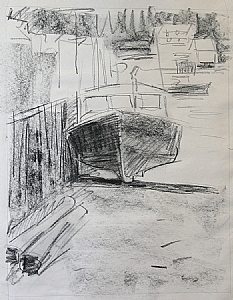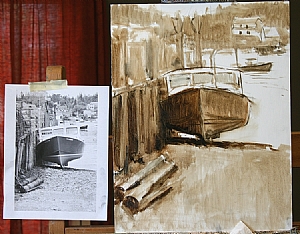 Full Size Sketch - "The Sun Catcher" Under Painting - "The Sun Catcher"
"The Sun Catcher"
Available
18" x 14"
Comment on or Share this Article →