Claude Monet was a master at the revisited scene (or Motif). He would do the exact same scene over and over with two exceptions, the lighting and the composition would be different. For example his
haystack
or
Rouen Cathedral
series.
A small part of
Monet's Haystack Series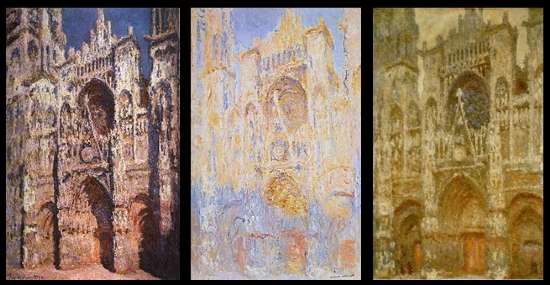 A small part of Monet's Rouen Cathedral Series
Well I don't claim to have the genius that Monet had but, an artist can try. I've taken it upon myself to try the same scene again and again for this to show for it.
Below is my Silver Lake series which is based on the harbor Silver Lake located on Ocracoke Island, North Carolina. The series started out with the painting in the center as a plein air piece done in the wee morning hours on the Island. The second of the series is the one on the far left. This painting is of the same boat house only it was completed in the studio of late day (sunset). The third of the series and the biggest was also a studio painting done of the boat house on Silver Lake only with a slightly different light and composition.
"Silver Lake Afternoon" 18" x 24" "Early Morning Harbor"

SOLD

11" x 14" "Sunset on Silver Lake" 30" x 40"
Comment on or Share this Article →