This is a painting that I completed back in 2008. I had it posted on my†
site at one time but, It got lost somehow. I wanted to post it again†
because it shows my process.†
Photo of Still life Set up
| | |
| --- | --- |
| | |
| Tonal Block-In. | Starting with the darkest darks. |
| | |
| Establishing the color shapes. | Working all over the canvas. |
| | |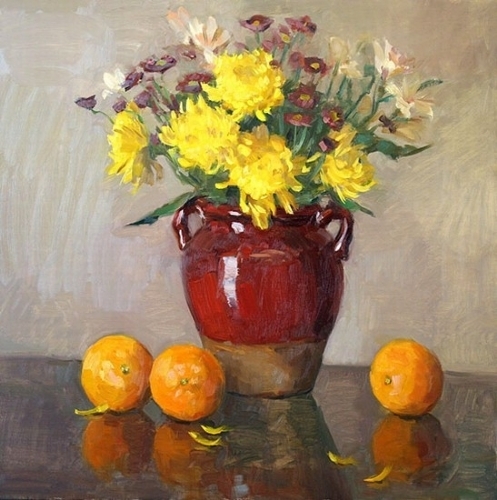 Here is the final Painting.
Comment on or Share this Article →
I just got back from Paint Wilmington 2009.†
I was invited by the
Walls Gallery
†to participate in the Paint Wilmington 2009 event this year. Considering the talent that was invited it was quite the honor. Even though we had heavy rain for most of the week I was pretty productive.
Here are two of my favorite paintings I finished when I was down there.
"Reflections of Wilmington" † † † † † † † † † † † † † † †20" X 16"
"November Surf" † † † † † † † † † † † † † † † † † † † † † † † † † † † † † † † † † †16" X 16" † † †
Comment on or Share this Article →