« A Finished Painting | Main | Another Hunting Island Painting »
Gosh it's been ages since I last blogged. I've decided to take it easy on this one so I don't hurt myself getting back into it.
I've recently returned from a week long trip to Hunting Island, SC. While there I painted a number of small plein air paintings and I wanted to share one in particular.
Some painters out there are sticklers for painting plein air all on site. You know who you are. I have to say I do some of my best work when I can take a break from it and return fresh in the studio to put the finishing touches on. This painting I did just that, and then some. When I got back from the trip I looked through my 15 or so sketches and some just spoke to me as good pieces. This one I liked but something wasn't quite right. What I decided to do next (don't try this at home boys and girls) is make this painting a night scene. I wish I had taken a picture of the original because a comparison of the two would have been a lot more interesting. Anyway you will just have to believe me that the original version kinda bit it.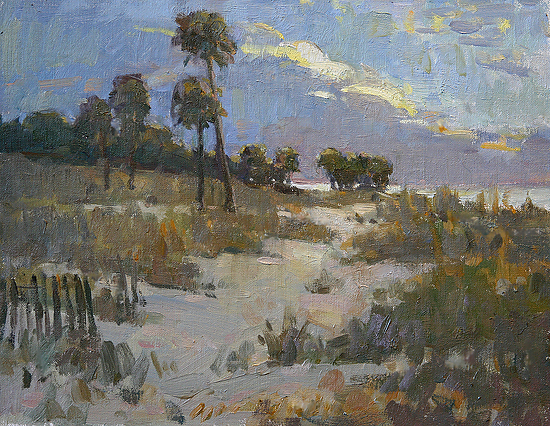 Comments