« Creating Art | Main | New Lowcountry Work »
When teaching plein air workshops I often get questions like "how do you know when a painting is finished" or "how do I keep from overworking my painting. My answer to this question lately is simply, under work the painting on site, then take a break from it and then finish it in the studio.
I was out painting with my good friend Stuart Roper a couple days ago and I started this 22x22 canvas on site. I lose track of time out painting but, I think I worked on this for maybe two hours at the most. When I returned with the painting to the studio I knew there where some changes that I needed to make. Having some time away from the painting but not to much gave me a fresh eye to take the painting to completion.
The first changes I made was I warmed up the mountains in the background. As we all know objects get cooler as they get further away from us. I made the mistake of making the mountains to cool which made them lifeless. The second change was the upper left corner needed some interest to it. Instead the mountain exiting the canvas at the top of the canvas I painted in sky which gives this area a much improved airy quality. The last change was I made a pattern out of the foreground flowers which help unify the whole painting.
I converted image 1 (the plein air version) and image 2 (the finished painting) to black and white so you see the changes without being distracted by color.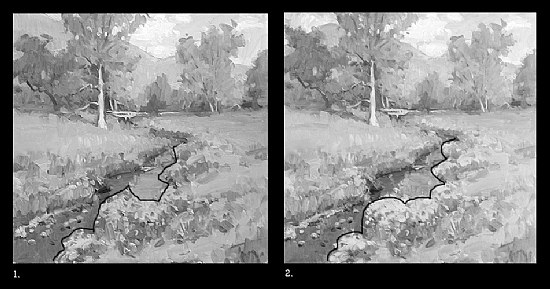 Here is the plein air piece (unfinished).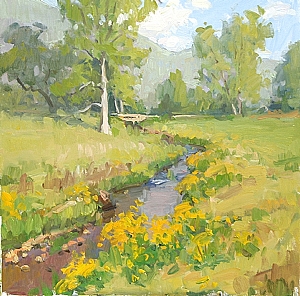 Here is the final painting.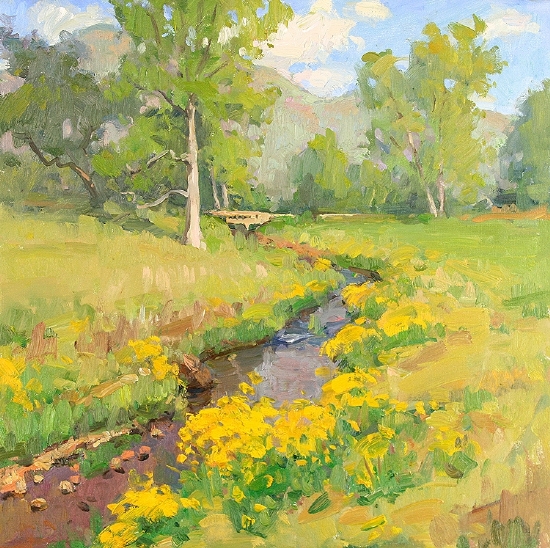 Comments
2 Responses to A Finished Painting
John Brecht
via richardoversmith.com48 months ago
There is a lot to be said for stepping away from a piece and returning to it with a clear head, fresh eyes and having digested it for a while. My preference is to return to the same location at about the same time and complete the painting from life (I hate the term, "en plein air"). I see things I had not seen in the previous day or week, plus I have had the opportunity to contemplate certain issues or problems. I have also reworked canvases in the studio. Regardless of the place, reworking a painting often yields positive results. The magic, however, is to stop at the right time.
Brennen McElhaney
via richardoversmith.com48 months ago
Richard, thanks for this post. I appreciate the comparison of the images. by the way, I am glad that you didn't completely rework (and overwork) the canvas.

This may sound weird, but sometimes while painting, I'll ask the canvas "what else do you need?" ...When it doesn't 'say' anything, it's done.
* indicates a required field