« Still life | Main | Creating Art »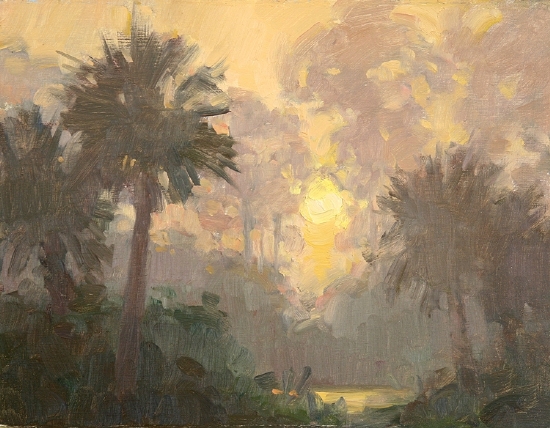 "Evergaldes Morning Fog" 11"x14"
I'm on spring break with the kids this week. As we often do this time of year we head down to Marco Island, Fl. Marco is about as far south as you can go on the Gulf side before you hit the Glades. Sometimes when I'm down here there is lots of water in the Everglades. This time not so much. This morning I headed out to paint about 7:30 am. Driving about 20 miles east of Marco on the Tamiami Trial I had a spot that I wanted to paint that I'd painted before. As I approached the general spot a fog started to roll in. As I passed the spot because of the fog and the fact that it's hard to see anything when your going 65 miles an hour I got a quick gleams of it. As I pulled of the road to make a U-turn to head back to my spot I saw this scene which I liked very much. I left the car there and pulled out my equipment out of the trunk and set up. As I started I knew time was against me. Sometime it pays to be quick. When the fog is lifting as fast as the sun is rising you don't have a lot of time to paint. From start to finish this painting took an hour. Even though I like the finished product I might touch it up here and there when I get back to the studio. I also would like to take this idea further with a larger painting. That's a blog for another day.
Comments
1 Response to Everglades painting
art tyndall
via richardoversmith.com48 months ago
hi, i really like this painting, the colors are so muted and i think you nailed it ..
art tyndall
* indicates a required field