« Last paintings from Cashiers | Main | Still life »
Unfortunately I was unable to keep my promise and blog about Easton while at the event. Sorry, my old Dell laptop bit the dust somewhere in between Cashiers and Easton.
Anyway to follow up on Cashiers which at this point seems a lifetime ago. I won third place in the competition for the Painting "Robins 57 Chevy"
Third Place Winner!
I would like to Thank all that was involved in making this event a great succes on many levels.
Speacial thanks to: Mary Palmer Dargan, Trish and David Wariner, Karen Weihs, and Robin and Jacques.
---
What can I say about Easton that I didn't last year. Well, it was HOT!
Easton is the preimere plein air event in the country as far as most artist are concerned. This year was a banner success for the event. They almost doubled sales this year at just over a quarter million dollors.
During the four days of brutally intense heat and humidity I completed the required two competion paintings plus the alotted 8 back up sale painting for the event.
I'm not going to post all the paintings I did but here are a couple. The first painting entered into the competiton won "BEST MARINE PAINTING" sponsored by the Chesapeake Bay Maritime Museum.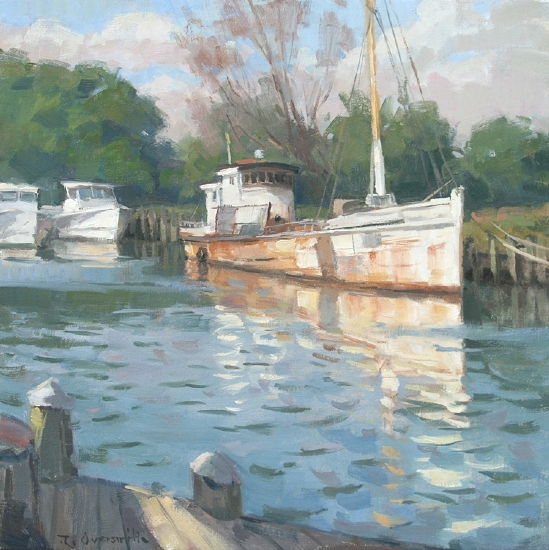 "Crow Bothers Last Stand"
SOLD
22" x 22" BEST MARINE PAINTING
Unfortunantly I didn't get a photo of one painting I sold of an interior of a Resturant/Bar.
This painting (below) was painted at the Winners Brunch on Sunday the last day of the event. All the winners from the competition and the quickdraw on Saturday were allowed to paint the morning of the brunch. The burnch is always held at one of eastons premereie properties and this year was no let down. The estate was spectacular. Latter that day all the paintings were auctioned off to the collectors that were present that day.
"Harleigh Boathouse"
SOLD
12" x 16"
Thank you to all that make Easton a huge success and to Ginger and Marion Bevard.
Comments
1 Response to Cashier follow up and the Easton rundown
Sharole Ewing
via richardoversmith.com53 months ago
I have been following your work and as you say in your December newsletter. Other artists work inspires me also and yours is a huge inspriation! Thankyou for sharing! I always enjoy your newsletters.
* indicates a required field